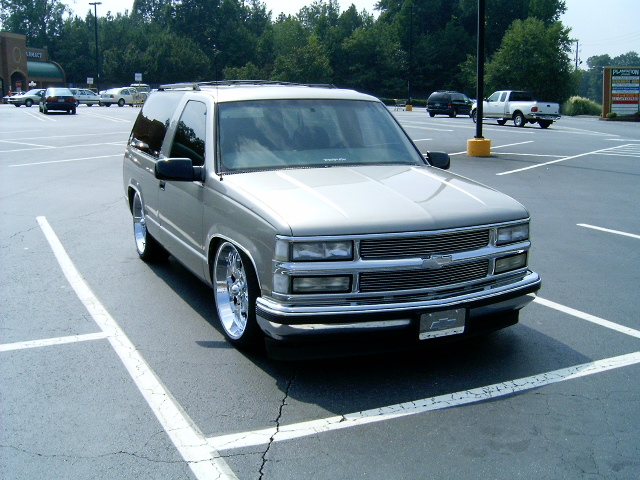 Whats up?
This is my site about my Ho...Its a 1999 Chevy Tahoe on 22 inch Kruz wheels. It has air bag suspension with Firestone 2600s in front and 2500 in back with all half inch copper line and all half inch valves. The roll pan is molded and painted. I have a Trenz billet grille and clear corners in the front and clear tail lights that I use for shows. Also, I have two TVs, one in each sunvisor and a PS2. Also, I have a Trenz tribal billet rearveiw mirror. For the stereo I have a Pionner head unit, Kenwood 6 1/2 door speakers, Hella tickin MB Quart tweeters, and for the bass I have two MA Audio synergy 12s in a VT box ran by a 2500 watt amp flushed and carpeted...Well, this is it, check it out!
Contact:
AIM: EastSidePlaya455
dont be skurred! hit me up on aim!
Bass Info

My bass: I have two 12 inch MA Audio subs ran by an MA Audio 2500 watt amp. It beats pretty hard...I got 2nd in SPL at the SLAP show at Hi Fi Buys, and I broke my legal record cuz I found a tone that hitz harder than any other in my truk. Heres the best so far. Also I got 3rd at Nopi Nationals 2003 in SPL for my class.

Legal = 152.6

Outlaw = 163.6